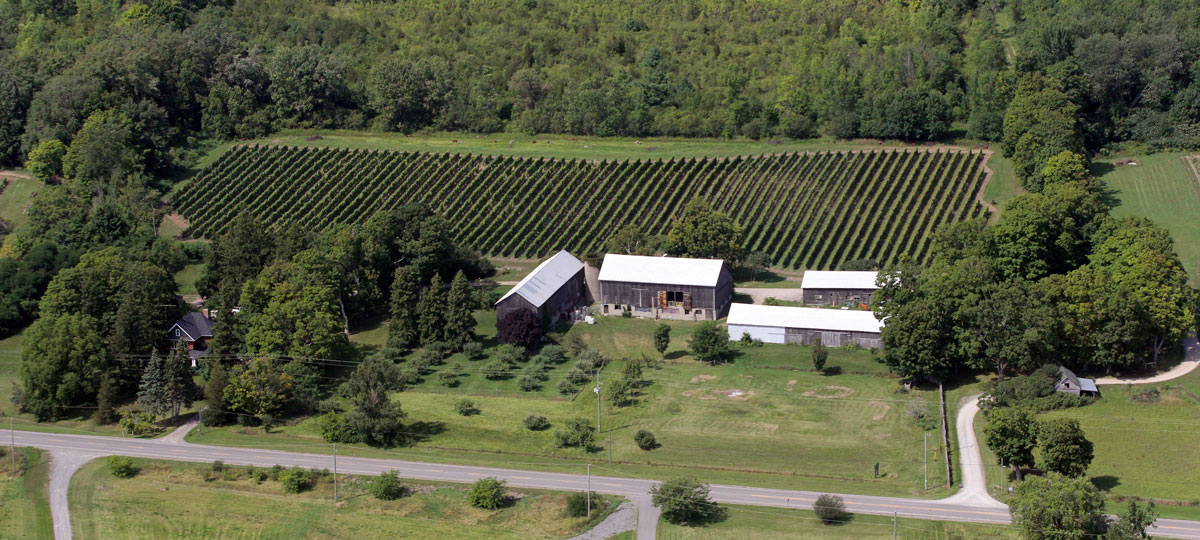 WINERY FOR SALE
Yes, our winery is for sale!
We are proud to have been part of the intrepid band of county wine pioneers in the 1990s, and to have grown By Chadsey's Cairns into a beloved winery with good, authentic county wine.
But it's time to pass the torch (at 69 Richard's heart deserves a rest).
We are looking for a wine lover with a romantic spirit and resources to guide this glorious farm into the future.
For serious inquiries, please contact us.
PROPERTY OVERVIEW
By Chadsey's Cairns Winery & Vineyard rests on a 141-acre heritage farm overlooking Lake Ontario, about 5 km west of Wellington on the busy Loyalist Parkway between two other major wineries.
With a rich history dating back to 1809, the farm is named after an early settler, Ira Chadsey, who is said to have built stone cairns at the back of the property to guide him home in the afterlife when he returned as a white horse.
As one of Prince Edward County's original pioneer wineries, By Chadsey's Cairns is known for a number of grape growing and winemaking firsts, as well as its true county grit and charm. It is the winery many say they would love to own.
With 14 acres under vine on exclusive Brighton Gravel ancient beach soil, and another nine adjacent acres leased, the winery produces between 1,800 and 2,000 cases annually of Pinot Noir, Chardonnay, Riesling, Muscat, Chenin Blanc, Gewürztraminer, Gamay Noir and St. Laurent.
Its best south-sloping fields are waiting to be planted.
Buildings include a four-bedroom century brick home, a unique and historic brick wine store/tasting room that was once an apple house, a winery located in a renovated horse barn, three other large barns, a three-bay garage and a 30-foot deeded right-of-way to Lake Ontario accessed by a tunnel under the Loyalist Parkway. Currently the farm house is a vacation rental residence for week-long stays during the high season and primarily weekends throughout the remainder of the year.
Two tree-line laneways run to the back of the property where Hubb's Creek flows through a five-acre woodlot. The remaining acres retain their original hedgerows and grow various cash crops.
Zoned as an estate winery, the property has ample opportunity for commercial expansion.
Wine Store/Tasting Room (Front Entrance)

Built circa 1850's for apple storage and cider production, the apple house is an architectural jewel. It features triple brick construction, a full basement with a separate entrance and an attic used for storage. Wheelchair accessible.

Wine Store/Tasting Room (Interior)

– Approx. 20′ x 30′
– 20′ x 12′ cedar deck overlooking Apple House Vineyard
– original doors, shutters, windows and pine floors
– electric, water services and septic services
– oak tasting bar with glass washer, fridge, sink


(photo by Steven Elphick)

Wine Store/Tasting Room (Back)

The cedar deck overlooks the Apple House vineyard. A popular spot for customers to sit.

Winery (Exterior)

Approx 28′ x 100′;
3-phase power;
hot/cold water;
heating/AC;
10′ x 10′ lab;
3-year-old fermentation cooling system;
various wine tanks & barrels, press, crusher/destemmer;
20′ x 20′ concrete crush pad;

(photo by Matthew Plexman)

Winery (Interior)

Original windows, recreated pine board on the upper half of walls with steel running along the bottom half and exposed beams help retain the former ambiance of the horse barn.

(photo by Steven Elphick)

Main barn, left, across from the Wine Store/Tasting Room

– approx. 85′ x 40′
– hand hewn and wood-pegged beams
– electrical panel suitable for increased activity
– two large cisterns
– water system


(photo by Steven Elphick)

Main Barn (Theatre Barn)

With a spectacular view of Lake Ontario from the upper floor, the main barn is now used for private events: musical concerts, dances, dinners, harvest lunches. As one of Ontario's rural cathedrals, this structure creates a magical space day or night. In this photo, Colin Linden performs in the Main Barn.

Additional Barns/Buildings

– 2 customer washrooms (pictured)
– equipment barn approx. 70′ x 24′
– sheep barn approx. 28′ x 125′
– three-bay garage

Currently these buildings have a variety of uses including equipment storage, parking for three tractors and a staff room for vineyard workers.

(photo by Steven Elphick)

Four-Bedroom House

– approx. 2,300 sq. ft.
– 800 sq. ft. walk-up attic
– currently a vacation rental home

This century brick farmhouse has great character and many attractive features: four bedrooms, wrap-around porch, hardwood and original pine floors, a pocker-door parlour, full basement, two three-piece recently renovated bathrooms, family room with loft, two wood stoves, fine original wood trim, large walk-up attic, new roof, oversized septic and water heat fuelled by natural gas. The house is well-shaded by old maples and has a three-port detached wooden garage.

(photo by Steven Elphick)

Chadsey Cemetery

One of 86 pioneer cemeteries in the county, the Chadsey Cemetery was established in 1809 with the death of James Chadsey. Closed for many years, the cemetery has 62 marked graves. The winery laneway also serves as a public right-of-way for public access, but the land surrounding the cemetery belongs to the farm. The cemetery is maintained by the municipality. The sheep barn, the oldest one in the county, is in the background.

(photo by Steven Elphick)