Winemaker: Vida Zalnieriunas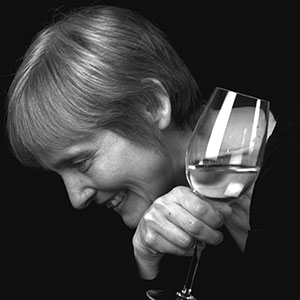 Vida is not sure exactly when she became the winemaker. However, she knows it was October 2001, ripe clusters hanging on the first Riesling vines, when she fell suddenly and precipitously into that role.
How many tonnes of grapes did she have to hand sort, press and ferment before she was not just the person who makes the wine, but the winemaker?
Perhaps it happened when she asked her one thousandth question to mentor, and friend, Ann Sperling—of Niagara, B.C. and Argentina wine fame—that she inched over on the continuum well clear of novice student phase to someone who generally knows the journey from vine to bottle: how to read the inside of a grape, taste the growing season in a sip, strategize and problem solve on the fly, and fall gracefully, irrevocably into the yearly rhythms of winemaking.
She recalls scoffing in the early years when asked about her winemaking philosophy, like, yeah, it's right up there with Sartre and Confucius. But, of course, belief and ways of being imbue everything, even winemaking she discovered.
As a psychotherapist (even former journalist), she is pretty analytical; among the styles of winemaker, she sees herself as midwife, relying on natural processes as much as possible to get clean, honest finishes. Letting grapes soak up every bit of available sunshine—sometimes a nail-biting decision– while maintaining a steady ego, good perception and patience lies behind every wine, whether a trendy Pinot Noir or a refreshing Gamay.
Co-winemaker: Dave Frederick of The Strange Brewing Company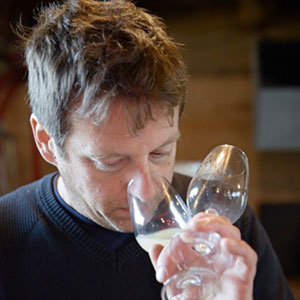 These days she also shares winemaking duties with Dave Frederick. He didn't fall like Vida, but leapt purposefully into the winemaking craft, pushing off in a long stride from the office tower where he once toiled as a banker.
He has worked in cellars from B.C. to Ontario developing a keen nose–a winemaker's best friend–and an essential romantic sensibility whether it's about the curve of an oak barrel, the heady aroma of wine that escapes when a bung is drawn, or the patterns forming in fermentation bubbles. Unlike some winemakers who never leave the cellar, Dave likes to spend half his time in the vineyards, which is where wine begins.
Dave's other great love is beer. When you are looking for thirst-quenching, flavourful crafted beer at one the county's many dining establishments, please ask for a pint from The Strange Brewing Company, Dave's latest leap.