WINES
We specialize in growing cool-climate wines at our small cottage winery and vineyard. They are all classic fine wines, 100% estate-grown, made in small batches and barrel lots. Some wine techniques are new; others are older than our historic farm.
To capture the headiest aromas and the most intense flavours, we rely mainly on picking the best grapes after a long season of hand tending the vines. 

Where to Buy
You can purchase wine at our winery in Prince Edward County near Wellington. Strolling in past the pioneer Chadsey Cemetery to a clos of barns is a transporting experience for most visitors. They tend to gaze in awe at the magnificent hand-hewn beams in the main barn, stand a while at the opened doors overlooking the lake, then finally appear at the tasting room, a historic apple house, pausing on the threshold to take in the wide plank wooden floors, brick walls and overall elegant simplicity. Some people sit a while on the back deck, sipping wine, watching the vines grow.
You can order on line. We do many free home deliveries if you are close to our Ottawa-Toronto route.
In Ottawa you can find us Saturdays at the Westboro Farmer's Market and Sundays at the Lansdowne Farmer's Market.
ORDER WINE
2014 Chenin Blanc  (sold out)
This is our most terroir-driven wine. Chenin Blanc has a strong affinity with our ancient beach soils producing a distinct minerality, pear nose and crisp, clean finish year after year. Serve chilled with seafood, especially–for those who love them–oysters on the half shell. Or acidic dishes such as vinaigrettes or anything with goat cheese.

2013 Riesling $21
Yes, a dry Riesling: floral scents, lively citrus and an underlying minerality. A good, all-round refreshing dining wine. Or sipping. Take your pick. A high-acid Riesling can cut through heavy creams or fatty fare, or meet acidic foods, such as citrus or tomato-based dishes, head on.

2012 Chardonnay $24
A light touch of noble rot elevated the sweetness of the grapes at the end of the 2012 growing season, resulting in a warmer mouthfeel and complexity. Tropical fruit aromas, buttery, and a characteristic French oak butterscotch finish with a refreshing lilt of lemon. A great dining wine.

2013 Chardonnay $29 (sold out)
Tropical fruit nose, buttery mouthfeel, light butterscotch finish and a Chablis-like streak of minerality with a crisp finish makes this an elegant dining wine. Barrel fermented and aged in French oak, of course. Pairs well with creamy or slightly acidic dishes, so perfect for multi-layered cuisine.
OFF-DRY (A TICH SWEET), DISTINCTIVE AND EXOTIC WHITE WINE

2014 White Horse $23
A blend of crisp white (Riesling) and aromatic whites (Gewurztraminer and a little Chardonnay) pushes this wine into the distinctive category. A nice balance of citrus and floral notes, freshness and a hint of sweetness. Named after Ira Chadsey, an early settler who was to return in the afterlife as a white horse.

2014 Gewürztraminer $23
Crushed rose petals and lychee fruit fragrance, this wine is always an exotic charmer. Some Gewurz can be sweet and oily, but this one has a light touch of sweetness to enhance its unique character and a silky mouthfeel. You can definitely have more than one glass, especially with spicy Asian dishes.

2015 Muscat $26
A rare planting in Ontario, Muscat Ottonel is a heady and lush floral experience. It is the only grape that retains its unique perfumed flavour as a wine; indeed some people joke they would like to dab a little behind their ears. Serve with delicate dishes such as white fish and basmati rice.
MEDIUM-SWEET & LIVELY WHITE WINE

2014 Riesling $21
Our first medium-sweet Riesling that is as refreshing as it is delightful. Brimming with citrus, this wine can pick up your spirits after a long day, especially if you're dining on hot and spicy fare.
LIGHT & LIVELY TO FINESSED ELEGANCE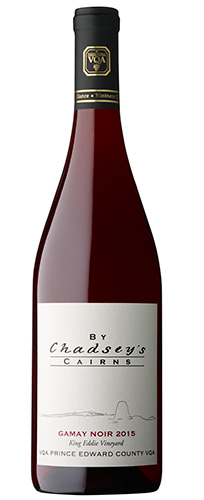 2015 Gamay Noir $26 (sold out)
A good Gamay is gulpable and great with foods that have delicious fat content: anything cheesy, deep-fired or off the grill. A medium-bodied red loaded with spicy cherries. Aged in French oak. Pairs well with a casual atmosphere.

2014 3-Point Hitch (sold out)
Our red blend connects Gamay Noir, St. Laurent, and you. Loads of blackberry and cherry with toasty oak notes. Another medium-bodied, fun, bistro-styled red that goes well with deliciously fatty foods. Named after a revolutionary hook-up device for tractors.
2014 Pinot Noir $30 (sold out)
A classic county Pinot that displays a fine interplay between cherry, pepper and earth-driven layers. Sourced from our King Eddie Vineyard, the grapes were hand-picked and sorted before barrel fermentation and ageing in French oak. Dry, medium bodied and silky. We love it with grilled Atlantic salmon or lamb.

2014 Roxey Rosé $19 (sold out)
An oaked rosé is a seriously fun wine—heavy on the strawberries with a citrus freshness and light vanilla notes. Named after Ira Chadsey's wife Roxey, who was romantically laid to rest in 1898 under a magnificent oak tree that grows at the back of our farm. Made for sipping or dining, it's also a gorgeous way to set the table.
SALMON PINK TO A VIBRANT RED

2015 PTO (Power Take-Off) $24
When we decided to make a sparkling version of the 3-Point Hitch, of course we had to name it PTO, a device that eases a farmer's workload by transmitting power from a running engine to an attached implement. We love PTOs, both kinds. A blend of cherry-like Gamay and blackberry-laden St. Laurent fermented on the skins to increase tannins, this charmat method sparkling is a little firmer than most sparklings, yet fruity and refreshing. Pairs well with almost everything.

2015 Rosessence $24
A bubbly bouquet of summer berries, this delicate pink sparkling captures the essential spirit of rosé: freshness with a delightful touch of sweetness. A charmat method sparkling made from Riesling and Gamay Noir, it has vowed us from the very beginning of its winemaking process. Toasting, sipping or dining.
Photos (this page) by Steven Elphick