Vineyards
Our vineyards stretch across a strand of ancient beach, a deep sandy loam known as Brighton Gravel. The limestone base and crushed shells produce a complex minerality noticeable in all our wines. But we didn't know any of that in the beginning. All we saw was a pretty field.
Dreams and risk-taking is how it all began.
Viticultural cowboys
Back in 1999 when we hand planted 3,000 Riesling, we were part of a small band of viticultural cowboys in Prince Edward County, an almost island in Lake Ontario located outside the fringes of acceptable cool-climate grape growing. And no wonder—most winters are cold enough to kill even the hardiest grape buds.
However, with the help of our mentor, oenologist Martin Gemmrich, we introduced a system of burying the vines (a labourious process of untangling fruiting canes, tying them to a low trellis wire on bended knee and ploughing soil over them) that is now standard practice in the county.
Those first Riesling vines handily survived to produce the first classic fine wine grown and sold in the county. They also helped usher in a new wine region.
Historic Apple House
Our first vineyard is named after the historic Apple House, a gem of a building that is tucked out of sight from the roadway behind the majestic barns. The six acres, located on a plateau section of the old beach, include some of the oldest Chardonnay and Gewürztraminer plantings in the county. The sandy loam drains well, yet retains sufficient moisture to keep vines healthy during periodic droughts. It is by far the easiest soil to mound in November when we're rushing to bury the vines.
South-sloping King Eddie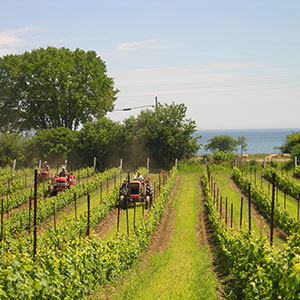 To the west lies the eight-acre King Eddie Vineyard with a long southern slope, a prized feature of vineyard land for intensifying the sun's rays. Mostly it's comprised of the same six-metre deep Brighton Gravel, making for a smooth-as-butter ride in tractors, that is until a big rounder amid the pink and black granite fieldstone litter is struck, knocking out a cultivator tine, or worse, a disc.
Towards the bottom of the field the soil transitions to the shallower Ameliasburg Clay with its limestone fragments that help radiate warmth on a sunny day. It then ends in the metre-deep Hillier Clay that is heavier and stonier still. Here vine roots need to work their way through a broken limestone base. Tractor work is also more challenging, particularly after a rain when tires can slide on the slick clay.
Named after a wooden bunk house that farmhands in the early 1900s humorously dubbed The King Eddie after the posh Toronto hotel, the vineyard is home to Pinot Noir, Gamay Noir, Chenin Blanc, Chardonnay and an experimental strip of Muscat that attracts birds from miles around like no other grape.
Velo Vineyard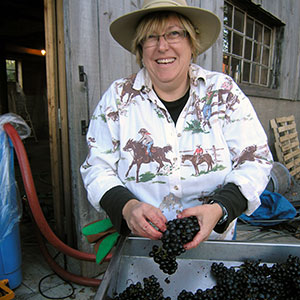 Naturally, we planted more Muscat because the fragrant wine is equally alluring. These newer plantings lie in the Velo Vineyard owned by Kate Greenaway and Douglas Reid. Adjacent to By Chadsey's Cairns on the east side, Velo is a 10-acre sandy loam field that is half plateau and half south sloping towards the lake. Here amid the older plantings of St. Laurent (a vinifera from Austria), Chardonnay and Gewürztraminer it is easy to imagine how Lake Ontario once lapped against the ridge.
Best vineyard land
Our best south-sloping fields, currently producing hay, are part of a second strand of Brighton Gravel near the back of the property, a sign of glacial history when Lake Ontario was even larger. Not surprisingly, varietal plantings for this more inland–therefore slightly warmer–parcel of land are endlessly debated.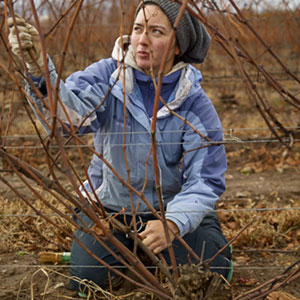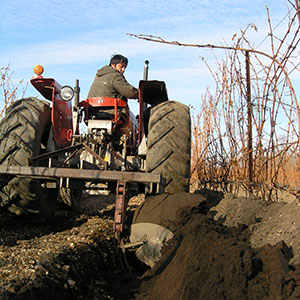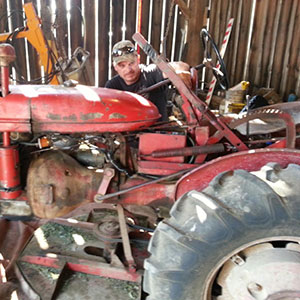 Top photo; right column #2 and #3  by Steven Elphick