Vineyard Pioneers
Like all good Prince Edward County wine stories, this one begins with a touch of madness.
Richard Johnston (former NDP MPP for Scarborough West, former Centennial College president and other former positions too numerous to list) took a job with the Tyendinaga Mohawks in 1995. His psychotherapist wife, Vida Zalnieriunas, insisted they settle in the county. She wanted to be near water, barns and artists.
They bought a two-century-old farm that came with four barns and the most charming red brick building called the Apple House, built in the 1850s when apple orchards were plentiful.
Strolling about their newly purchased farm on a grey November day, they paused to gaze at the corn field behind the Apple House. Their city-born kids had been swallowed up by the dense stalks that fateful summer day they had met with real estate agent Chuck Slik (his name clinched the deal), but the field was now reduced to six acres of stubble.
And Richard, basing his hunch on nothing more than fond memories of walking in stony French vineyards, and quite possibly his love of wine, declared: I think you could plant grapes here!
Even a psychotherapist has trouble restraining a madman.
Are you crazy, Vida asked in a somewhat clinical sense. Do you know how much work that would be? (Richard could shepherd social policy into reality, but what did this man from Queen's Park know about grape growing? In an untested region!)
Regardless, after three years of intense lobbying, Richard finally received grudging support to order 3,000 Riesling vines. Might as well go big, he craftily reasoned.
The spring of 1999 was glorious. Except for May 7 when 30 friends and family members, just bright yellow dots of rain gear barely visible through fog and cold drizzle, hand planted a football field of vines. For novices, these were pioneer times of down-on-your-knees-in-the-mud work, shovelling holes with aching backs, the rows stretching like a nightmare to infinity.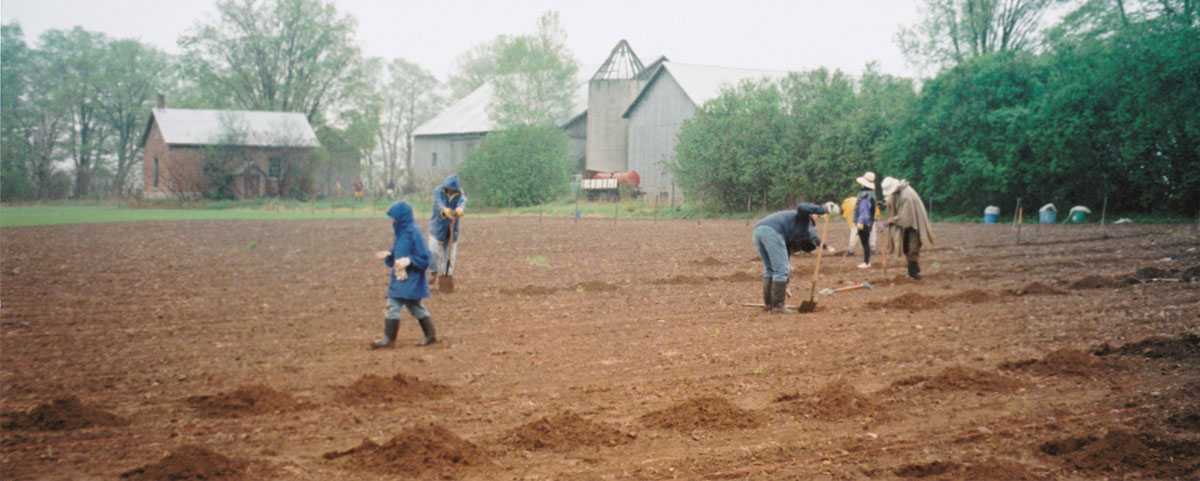 Author Antanas Sileika, a digger, (and author) philosophized about the allure of vineyards. Would he have volunteered to plant, say, potatoes? Otherwise he hummed the Volga Boatman. Vida, a planter, smiled for a photo only to be told, uh, there's some dirt on your tooth. Ross McClelland (NDP MPP Bellwoods), miserable from head to toe, is reputed to have dined out in political circles for years on this cautionary tale.
Past mid-day, the obvious futility (ha! plant a vineyard!) began to settle on shoulders. Hundreds of vines taken out of cold storage and soaking in brightly coloured wading pools, tubs and pails still needed to be carefully placed in the ground, four feet apart in laser-straight rows. (Indeed, for most volunteers it was a matter of faith that these eight-inch-long greyish sticks with hairy roots and white waxed cut tips were truly grape vines.) But a pact of silence kept the group going into grim heroics.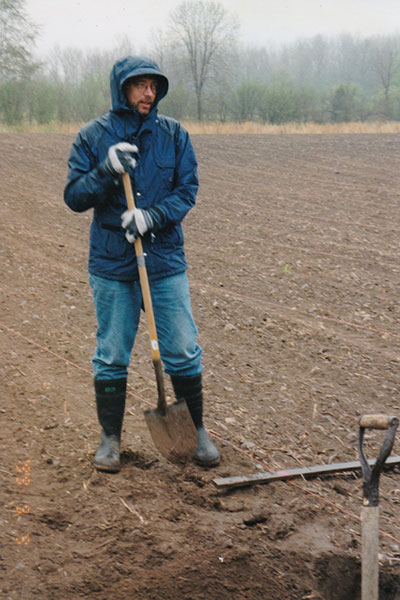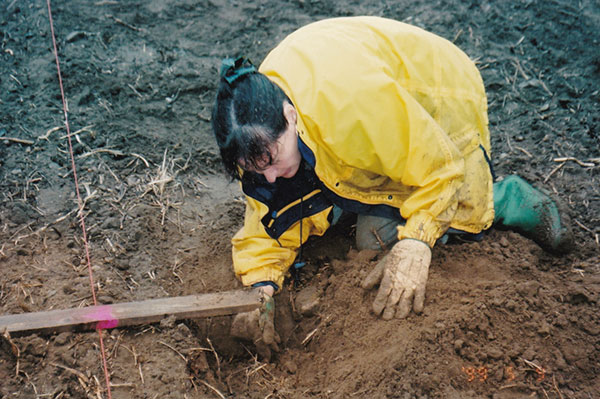 Desperation finally inspired local farmer Gary Parks who, like many farmers, spends most of his day riding high above soil level in an air conditioned tractor that costs as much as a small house. Being down in the dirt brought back memories. He sped home and returned with his father's (great grandfather's?) antique single furrow plough hooked to the back of his Massey Ferguson. Looking like a figure in an old woodcut illustration, Dave Mather walked behind gripping the plough handles to guide the deep cuts into the earth.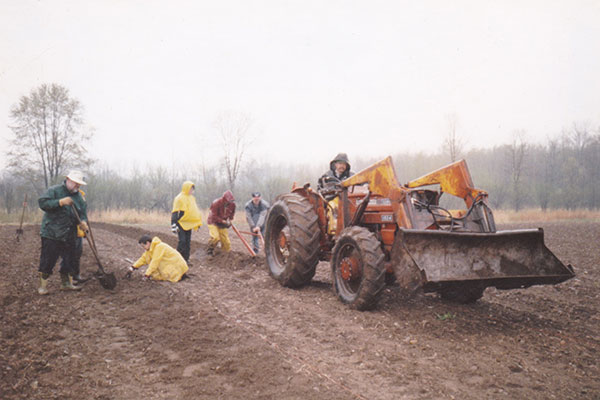 There were cheers all round, shovels were ditched and the planting made good speed. By day's end the group surveyed its accomplishment. It looked very much like a three-acre planting of chicken leg bones.
Unbeknownst to them, this was a small moment in the county's history as an upcoming, upstart wine region. Those Rieslings would go on to produce the first classic fine wine grown and sold in the county.
Elsewhere in the county, other pioneers had also been quietly planting vitis vinifera (European varietals noted for classic, fine wines, but unfortunately not their Canadian cold hardiness) or safer hybrid varietals (rugged, but less fine). Such was the synchronicity of dreamers, that by the end of the 90s more than 10 acres of vineyard were being carefully monitored for their promise in Prince Edward County.
Those fledgling vineyards quickly generated lots of buzz so that even before their long-term viability was certain, the vino rush was on. Overnight "vineyard land" was up for sale and a new breed of arrivals began to settle in.
By 2002, 300 acres were under vine and owners were quickly learning to adapt viticulture practices to the harsher county climate, primarily by burying their canes for winter survival. Today we boast more than 40 wineries, exciting new restaurants, artisanal food producers of all types, a growing number of organic farmers and a burgeoning industry of vacation accommodation rentals.
Some people say Prince Edward County has finally arrived, but most of us know it was always here.