Grape Grower: Richard Johnston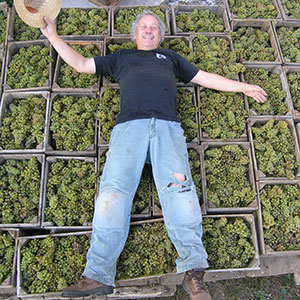 Richard is, oh, so much more than a grape grower.
Up in the attic are boxes of lifetime achievement awards, newspaper clippings (including political cartoons at his expense), historic film footage and hardcover editions of years of political debate in the Ontario Legislature. (For a list of where he has worked, scroll to the bottom in case you're wondering if he's that Richard Johnston.)
It was five tractors ago when he insisted on planting grapes, partly because he loves wine, but largely because he was excited about a new crop being added to the county's agricultural mix, one that would spin off in various economic ways the way vineyards are wont to do. What better place for a new wine region, he reasoned, than the county already known for its true grit, beauty, creativity and romance?
He is known for two important contributions.
Burying the vines
In the fall of 2002, Richard, and one other local grape grower, began burying grape vine canes in the hope of ensuring bud survival in cold winters, a practice that raised eyebrows and even amused derision because it's a maddening amount of work: tying canes down to a low wire in late fall, ploughing soil up, peeling soil back in the spring, tying canes back up.
Then came three successive brutal winters. The only grapes to emerge in the spring came from buried canes. Now burying canes is standard practice in the county. (Niagara is a little warmer and can take the occasional hit.) Burying is so crucial to our survival as a wine region, that Richard came up with the idea to revive the old wassailing tradition in Europe. Instead of celebrating the fall harvest, we celebrate that we are buried before winter's icy blasts.
Richard is also the longest serving chair of Prince Edward County Winegrowers Association (PECWA) and played a crucial role establishing a new wine region and building a community of winegrowers.
In his former life, Richard was known as a politician, social activist and educator. As the NDP MPP for Scarborough West from 1979-90, he was known for his work on poverty, child abuse, nuclear disarmament and deaf education. After politics, he became Chair of the Council of Regents, the governing body for the province's colleges where he led a number of reform initiatives and helped establish two French-language colleges. He assumed the presidency of the First Nations Technical Institute in Tyendinaga Territory in the mid-90s, the reason for moving to Prince Edward County. Next he became president of Toronto's Centennial College in 1999, the same year he planted a vineyard, the anchor that keeps him in the county.